Manage Keyless Entry without limits.
KAS Neo for Keyless Room Access, Common Door Access, Energy Saving, Lift Control and Door Status Monitoring. KAS Neo Locks can be managed completely remotely. Share Bluetooth keys, Pincodes or RFID cards from our brand new, cutting edge key management system KASAccess.

KASAccess Update : New features for iPhone users. Open door with "Hey Siri" or your iPhones RFID Reader. Ask us for more details.
Now Integrated with..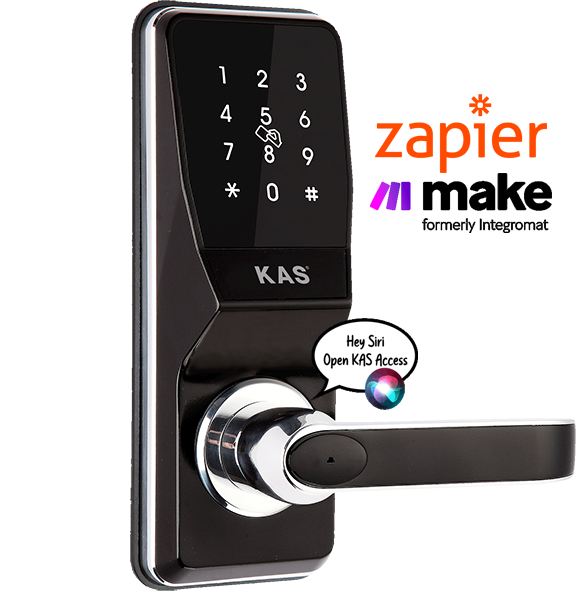 Why Choose KAS.Neo?
KAS Neo locks offer a comprehensive range of features at an industry-leading price point. Our products are equally suitable for personal use as they are for Hotels, Self Storage, Schools, and Corporate facilities.
Flexible
Simple, reliable access options including pincode, RFID and mobile Bluetooth entry.
Easy Install
Our KAS Neo Handle Lock is battery-operated. Battery life is 6~12 months with regular use. Wireless connectivity to our gateways makes installation as easy as can be.
Smart Features
Online Programming • Scheduled Remote Pincodes and RFIDs • Scheduled Remote Bluetooth Access • Remote Entry Logs • Lock Grouping for Common Doors • 7-day Scheduled Auto Free Passage • Water Proof Options • Tamper Alerts • Multiple Admin Roles • Reed Switch Detection • Open door with your iPhones RFID reader (New!) • Unlock with "Hey Siri" (New!)
Online / Offline
Is online not an option? Our locks can be easily operated without any network connectivity while retaining full functionality.
Compatible
Compatible with almost all electric locking hardware including mag locks, electric bolts/strikes, motorised gates and doors.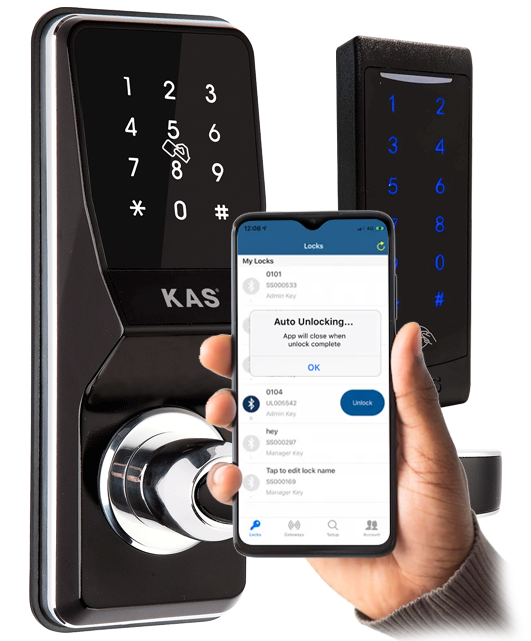 KAS Neo With KASAccess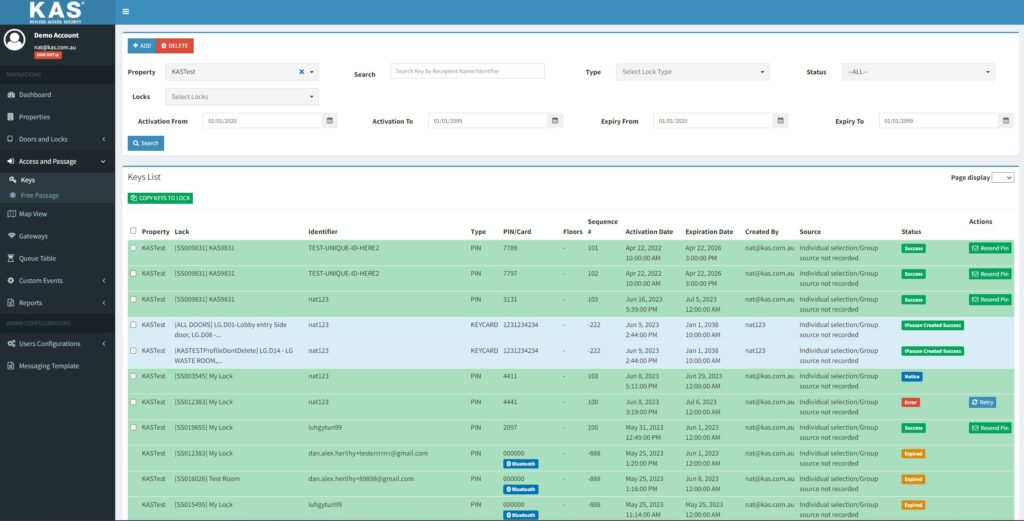 Get the best out of KAS Neo locks by integrating your Room Management software with KASAccess
Integrates with Everything

KAS Locks can be integrated with almost any 3rd party app through our REST API. We have also created integrations with Zapier.com and Make.com to streamline Integrations to popular 3rd party Room Management Software such as CloudBeds and Newbook
Ask us about compatibility with your Room Management Software today. Phone App Features*
Hands-free guest access with the KASAccess App and "Hey Siri".
Auto Unlock – just open the App and tap your phone to the lock.
Hey Siri and Auto unlock work with all KAS hardware site-wide including Locks, Access Controllers and Lift Controllers.
Cloud Control
Option to use our Intuitive KASAccess Web Console 2, allowing remote management of pincodes, RFIDs and BLE keys.
* some phone app features vary between phone models and may be dependent on the phone settings
Core Product Range
KAS Neo Lock
Ideal for Hotels and Apartment Buildings. Guest Room Entry.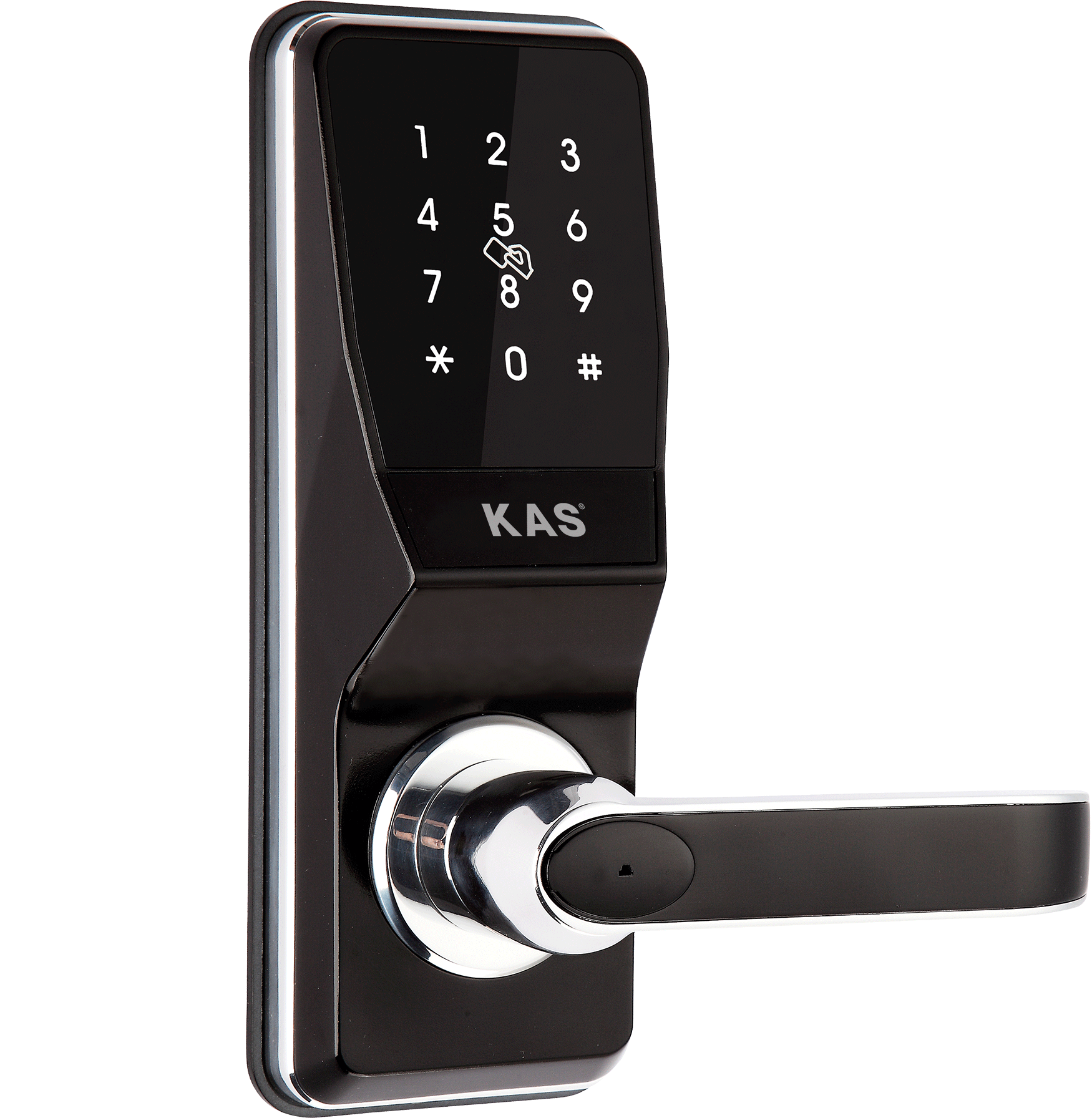 Battery-operated lock.
6-12 months battery life.
RFID card/fob, pincode and Bluetooth entry.
Physical backup key.
Emergency battery backup connector.
Can be used on guest rooms or common doors*.
Large, clear keypad display.
Splash Resistant.
Can be installed under eaves.
2-Year Warranty.
KAS Neo ACR2 (Access Card Reader)
Ideal for Hotels and Apartment Buildings. High Traffic Common Doors.

12-24v wired Access Control Reader.
RFID card/fob, pincode and Bluetooth entry.
Can be used on guest rooms or common doors.
Highly Secure Solid State NO/NC Relays.
Tamper Switch.
Switch Monitor (RS/Dry Contact etc.)
Maintenance friendly connector
Must be used in combination with electric locking hardware such as motorised openers, electric strike/bolt, maglock, etc.
Waterproof, resin-encased electronics.
Can be installed open to the elements.
Weigand 37 for an optional external keypad?
2-Year Warranty
3x Key Management Options
KASAccess
Cloud Based, remote and in-house management of Keys
Lock-S
PC Software for in-house management of keys
Stand alone
Basic management of keys via lock face keypad.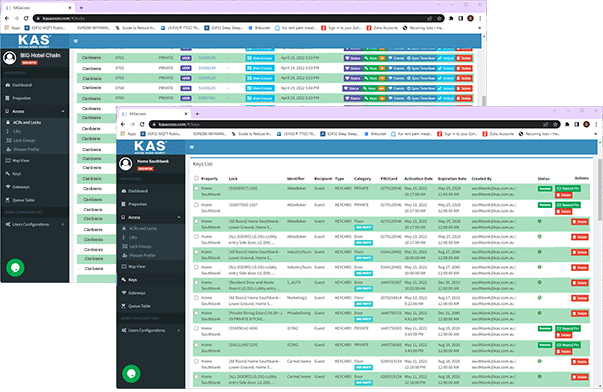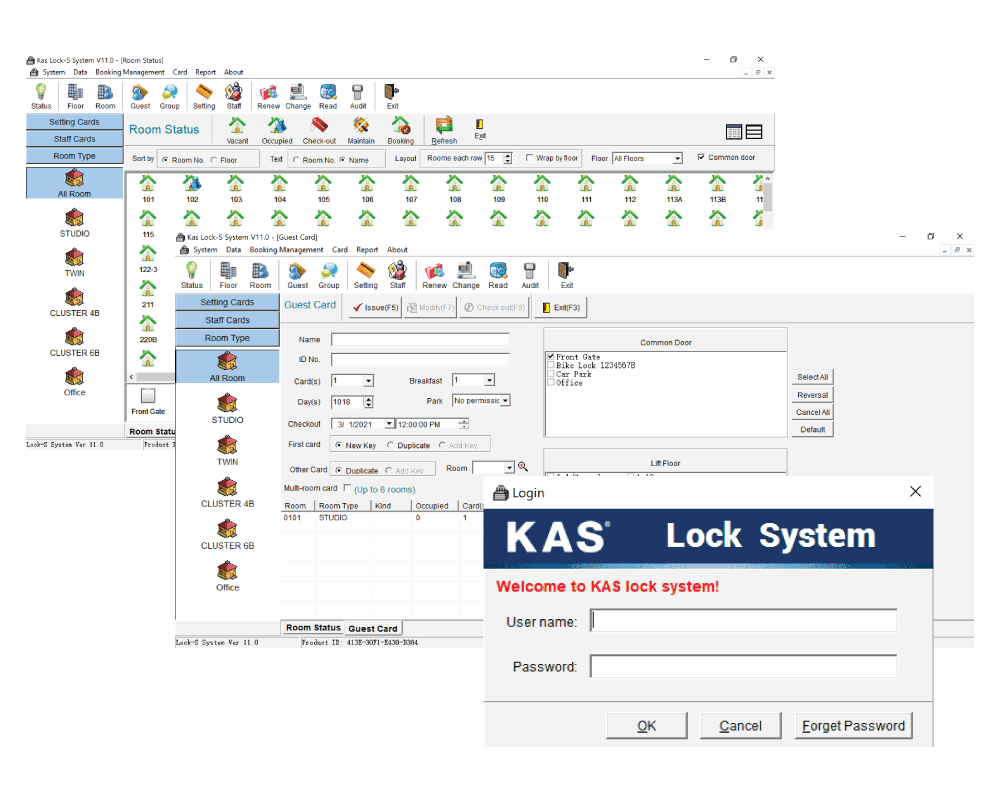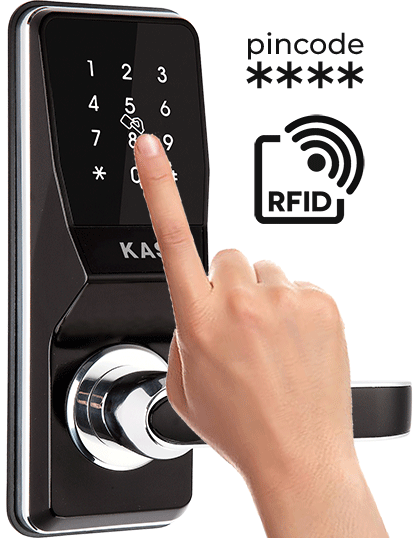 Flexible enterprise solution, suitable for hotels, apartment buildings, education and government facilities, gyms, etc.
Cloud-based remote key management.
Lock Grouping – set one pincode to access many locks (useful for master keys and common Doors).
RFID, / pincode and Bluetooth keys with valid entry periods.
Multiple admin user levels
Scheduled free passage.
Remote event records.
API available for RMS integration and 3rd party control.
Event Map to generate notifications and alarms based on user-defined conditions (Ie window open + door open + motion detected = trigger alarm).
Compatible with Neo Lock, Neo ACR1, Neo ACR2, KAS Smart PIR Energy Saver and KAS Wireless Reed Switches.
Basic RFID access solution, suitable for locally managed hotels, gyms and apartments.
PC key management software.
No Internet access is required for access cards and FOB keys.
Valid key entry periods.
Scheduled free passage.
Master / Staff / Guest keys.
Lock entry records
Compatible with Neo Lock and Neo ACR1.
Basic solution, suitable for single locks, home entry, low volume AirBNB, etc.
Manual entry on RFID card/fob pass and pin codes direct to the face of the lock.
Auto-generate 8-digit pin codes with a valid period.
Custom 4-digit pin codes (no valid period).
Bluetooth entry.
*KASAccess requires KAS S1 Gateway(s) to be placed within a 15m line of sight to each lock. S1 Gateways require an Internet connection via POE or Wifi.
**Lock-S PC Software for local key management functionality only.
Parts Required
KASAccess (Cloud).
KAS Neo Battery Handle Lock or …
KAS Neo ACR with Electric Strike / Electric Bolt / Magnetic Lock to secure entry.

KAS S1 Gateway (All Locks must be within 15m line-of-sight to a gateway) minimum 1x S1 Gateway required.

KASAccess subscription.
Optional RFID number reader.
Access cards/fobs with printed RFID numbers.
***KAS Neo ACR requires a 12-24v power supply (not included).
Lock-S (Offline).
KAS Neo Battery Handle Lock or …
KAS Neo ACR with Electric Strike / Electric Bolt / Magnetic Lock to secure entry.
Windows PC with Lock-S Software License.
RFID Card reader/writer.
KAS Lock-S encoded access cards/fobs.
***KAS Neo ACR requires a 12-24v power supply (not included).
Stand-alone (Offline).
KAS Neo Battery Handle Lock or …
KAS Neo ACR with Electric Strike / Electric Bolt / Magnetic Lock to secure entry.
***KAS Neo ACR requires a 12-24v power supply (not included).
Parts of our System Explained.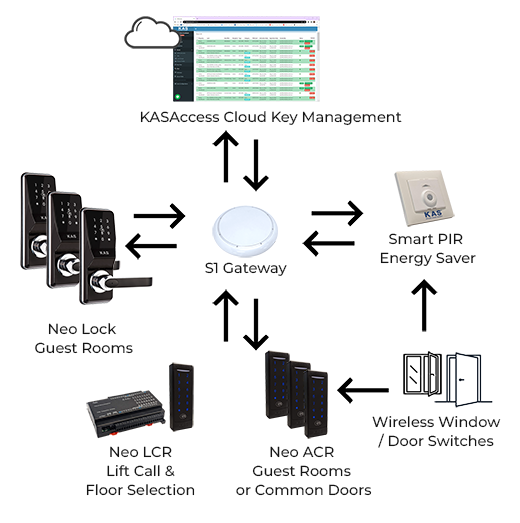 Glossary:
KASAccess / Lock-S: Software for managing keys to locks.
KAS Neo Handle Lock: Battery-powered lock, ideal for guest room entry.
KAS Neo ACR: Access controller with keypad. Wired 12-24v. Requires additional electric latch / magnetic lock, motorised door, etc.
Neo LCR: Lift controller with keypad and relay module to allow access to individual lift floors.
S1 Gateway: Wirelessly transmits key data to Neo locks, ACRs and LCRs.
Smart PIR Energy Saver: Uses smart motion detection combined with an algorithm to detect when the room is vacant and automatically turns off the power. Can also be used as a security device.
Wired Door and Window Switches: Can be connected to ACR or PIR to monitor door/window opened/closed.
Wireless Door and Window Switches: To be used in conjunction with PIR Smart Energy Saver to monitor door/window opened/closed.
API: Application Programming Interface for controlling and Integrating our Locks with 3rd party software.