KAS NEO Cloud Lock
Ideal for Hotels and Apartment Buildings. Guest Room Entry.
Battery Operated. (4x Double AA Batteries Included)
~6-12 months battery life.
RFID / Fob Card, Pincode and Bluetooth Entry.
Physical backup key.
Emergency battery backup connector.
Large, clear keypad display.
Splash Resistant. Can be installed under eaves.
2 Year Warranty.
Installation Guide:
https://support.kas.com.au/portal/en-gb/kb/kas/neo-cloud-lock-gen2
3x Key Management Options
KASAccess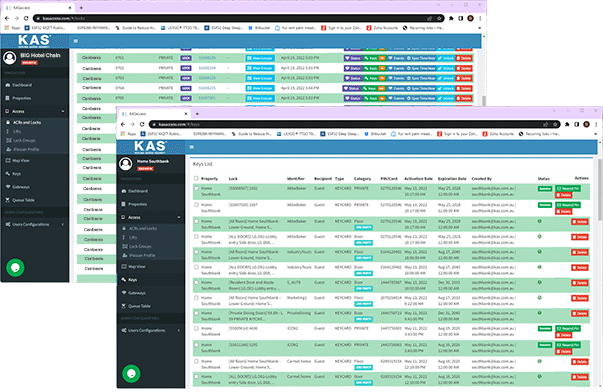 Cloud Based, remote and in-house management of Keys
Flexible enterprise solution, suitable for hotels, apartment buildings, education, government facilities, gyms etc.
Cloud based remote key management.
Lock Grouping – Set one pin to many locks.(Useful for master keys and common Doors).
RFID / Pin and Bluetooth Keys with valid periods.
Multiple admin user levels
Scheduled free passage.
Remote event records.
API available for RMS Integration and 3rd party control.
Event Map to generate notifications and alarms based on user-defined conditions. Ie window open + door open + motion detected = Trigger Alarm.
Compatible with Neo Lock, Neo ACR, ACR2, KAS Smart PIR Energy Saver and KAS Wireless Reed Switches.
Lock-S
PC Software for in-house management of keys
Basic RFID access solution, suitable for locally managed hotels, gyms and apartments.
PC key management software.
No Internet access is required for access cards and FOB keys.
Valid key periods.
Scheduled free passage.
Master / Staff / Guest keys.
Lock entry records
Compatible with Neo Lock and Neo ACR
Stand Alone
Basic management of keys via lock face keypad.
Basic solution, suitable for single locks, home entry, low volume AirBNB etc.
Manual entry on RFID / Fob pass and pin codes direct to the face of the lock.
Auto-generate 8 digit pin codes with valid period.
Custom 4 Digit pin codes (no valid period).
Bluetooth Entry.
PLEASE NOTE: Latches are not included
Choose from below to add to your cart purchase
KAS Tubular Latches
KAS Tubular Latch Dimensions – https://support.kas.com.au/portal/en-gb/kb/articles/kas-tubular-latch-dimensions
Mortice Latches
KAS Mortice Latch Dimensions – https://support.kas.com.au/portal/en-gb/kb/articles/mortise-latch-dimensions-with-table
*KASAccess requires KAS S1 Gateway(s) to be placed within 15m line of sight to each lock. S1 Gateways require an Internet connection via POE or Wifi.
**Lock-S PC Software for local key management functionality only.